Magnum By Boker Premium Skinner Knife
The finely polished 440A stainless steel blade in classic Skinner design is dominated by the high cut point. The generous radius makes it easy to use in hunting. With its distinctive hand grip, the handle provides a high level of safety, preventing the hand slipping onto the cutting edge. The scales are made of a combination of jigged bone and Pakkawood and are separated from each other by layers of brass. The Premium Skinner comes with a quality, embossed leather sheath with a snap closure.
SPECIFICATIONS
Overall Length: 245 mm
Blade Length: 120 mm
Blade Thickness: 3.00 mm
Style: Hidden Tang
Steel: 440A
Hardness: 
Handle: Pakkawood, Jigged Bone
Weight Knife: 179 Grams
Made in: China
Sheath: Leather
Product Code: MB02LL163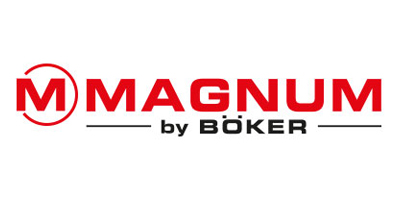 The attractive brand from Boker with a great price to performance ratio. The concept takes place in Solingen, design, construction and finishing is taken overseas. Magnum offers a wide range of knives from all categories, from traditional pocket knives, to hunting knives and modern knives. Latest lock technologies and knife trends also for price sensitive customers.
You must be at least 18 years old to purchase knife products on this page. Kaos Kords assume no responsibility for injury, damage or loss incurred by use of any merchandise sold here. Compliance with local, state and federal laws is the responsibility of the buyer. Purchase of items from Kaos Kords implies agreement to the above statements by buyer.